Ingredient Focus: Cherry Blossom
An ancient Japanese beauty ingredient that is more than just a fragrance
Before scientific research showed that pure Cherry Blossom Extract had proven benefits for skin, women in ancient Japan had already incorporated the flowers into their skin care routines. It's become a popular beauty ingredient in brands worldwide, but how can you tell if your Cherry Blossom products are more than just a scent?
The Tree Blossom Blooming Princess
Ancient Japanese believed that beautiful earth goddess Konohanasakuya-hime (木花咲耶姫: tree blossom blooming princess) would breathe the flowers into blossom each Spring, marking the two short weeks a very special time in Japanese culture. Families gather under the trees for an annual picnic and flower viewing festival called "Hanami (花見)".
During this period, cherry tree orchards launch into action to sustainably harvest the precious pink flowers before they need to wait another year. Due to such a short harvest time, authentic Cherry Blossom ingredients command a high price in the market for food, beauty and other industry needs.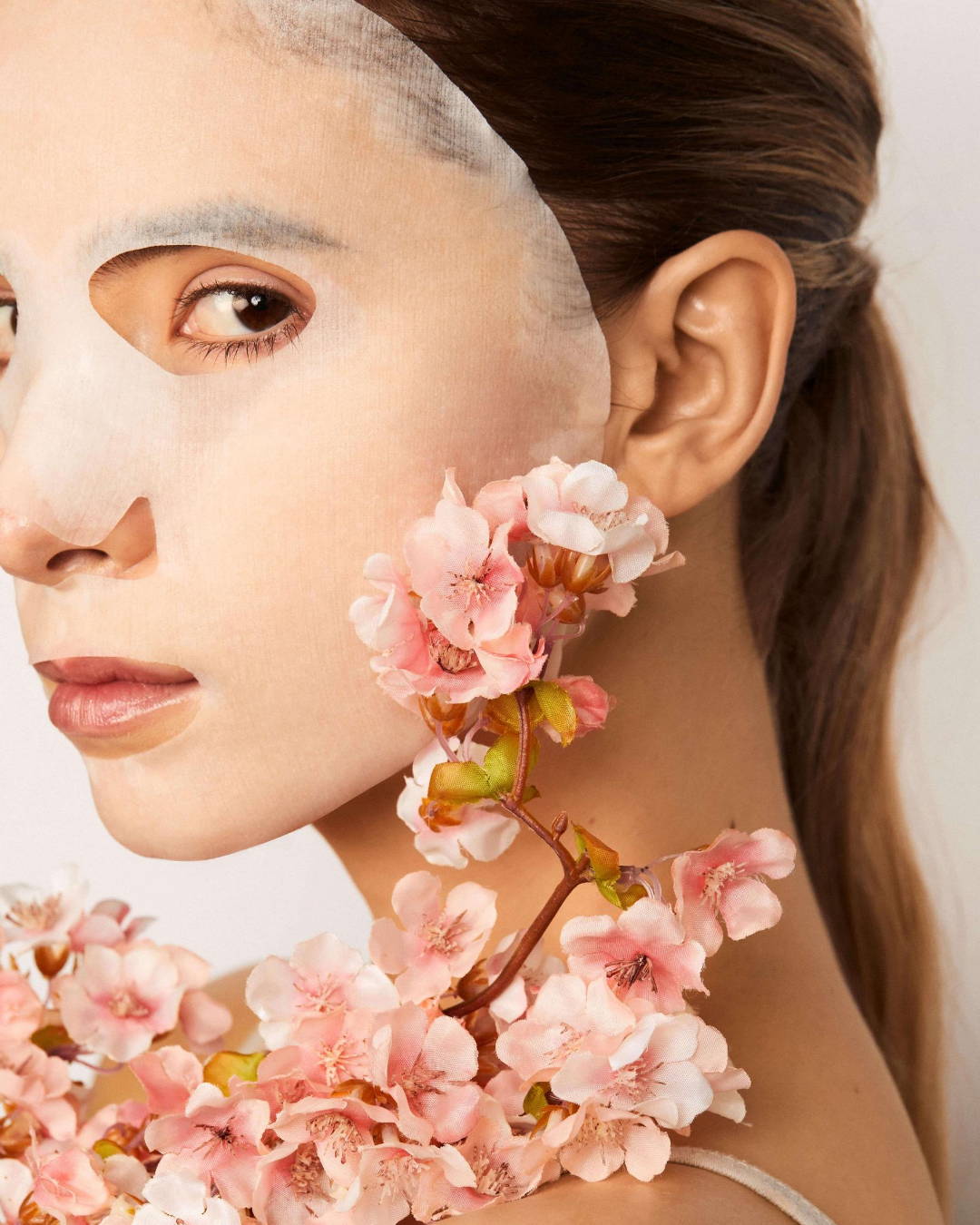 A Little History on Sheet Masking
Historically, Japanese women steeped the flowers in water to make a light distillate, then soaked cotton sheets in the liquid before placing onto the face to "sit" for a while. It was believed to hydrate and condition the skin for visually optimal texture as most women did not wear cosmetics. This practice was also recorded in Korea and China, marking the original practice of the sheet masking.
Nowadays, we know that Cherry Blossom flowers are rich in antioxidants, anti-inflammatory properties and essential fatty acids – all of which make it a powerful skincare ingredient, if formulated in active concentrations.
The flower is a common fragrance ingredient, but more often than not, products marketed as "Cherry Blossom" are synthetically scented as a cheaper substitute that provides a much stronger scent.
So how can you tell if the Cherry Blossom ingredient in your skincare product is actually meant to have benefits?
#1 Read the Ingredient List
There are several species of Cherry Blossom, with Prunus Yedoensis (which we use here at Snow Fox Skincare), being the most commonly found in Japan, native to the Yoshino District in Nara.
It is also known as the "Yoshino Cherry" due its birthplace of cultivation. In Korea, it is referred to as the "King Cherry".
Studies that were done on this particular species showed strong evidence of soothing and anti-inflammatory benefits on skin, thus perfecting topical skin texture, which is why it is integral for one of our bestselling products. Prunus Yedoensis should be the name you want to look out for in your ingredients list (especially if you bought something expensive!).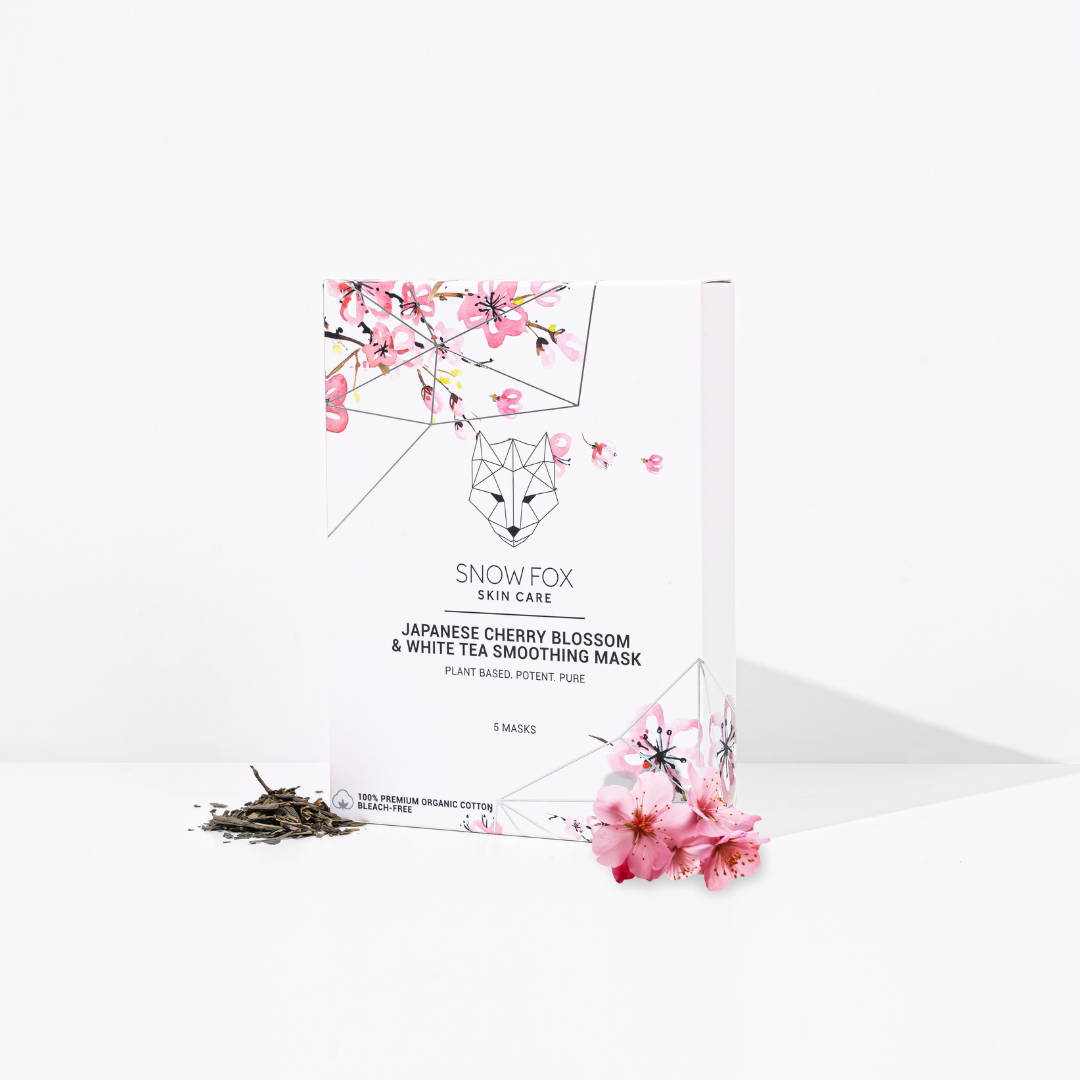 #2 The Scent
Have you ever been under a Cherry Blossom tree in person? The scent is light, sweet and refreshing without being overly pungent. If your Cherry Blossom product has a strong sugary undertone that lingers over a period of time, the formula is likely prioritising a synthetic scent, which is very common for bath and body items. While this is usual in the bath/body market, highly perfumed formulas can cause sensitivity on facial skin.
That being said, those who have used our Japanese Cherry Blossom & White Tea mask are often puzzled by a distinct floral fragrance that does not smell like typical "Cherry Blossom" perfumes. This is simply what a high concentration of cherry blossom extract smells like, in good condition.
The scent of our serums are entirely from its natural origin, and due to the proprietary technology that we use to produce our masks, our botanical serums are extremely fresh. This is actually why Snow Fox products often have slightly herbal scents. The proprietary technology is aimed at keeping the formula ingredients in pristine condition, as close as possible to the day they were made.
#3 Pricing
In the beauty world, it's difficult to tell what is a gimmick and what is not, but in general you would expect premium brands to select higher cost raw materials. Products using real Cherry Blossom extract in active concentrations won't be cheap. Our Japanese Cherry Blossom mask is one of the most costly and difficult items for us to produce due to the scarcity in its main ingredient. We source only from Japan, for its consistent premium quality and excellent reputation in Cherry Blossom harvests, so we do our best to find a healthy balance between our production costs and consumer pricing.
Appreciate your Cherry Blossom products more? After endless hours looking for the best supplier of Cherry Blossoms in Japan, we definitely adore our media-favourite, celebrity loved Japanese Cherry Blossom & White Tea Smoothing Mask!
---